Welcome to the 2018 SedonaOffice Users Conference!
The Perennial Software Team is excited to announce that preparation for The SedonaOffice Users Conference – or SOUC – is now officially underway! We hope our Users are as happy as we are to start gearing up for the industry's most highly anticipated event of the year (at least that's what attendees tell us – be sure to check out their glowing conference reviews in the "Attendee Buzz" section of the SOUC 101 Brochure, below!).

Bright streetscapes, cultural hubs, redwood forests, and world-famous bridges are just a few of the city's attractions.
There's something for everyone at the SOUC…
SedonaOffice Users of all skill levels and professional backgrounds are encouraged to join us from January 21st – 24th, 2018 at the Hyatt Regency San Francisco for this three-day event, jam-packed with revamped educational tracks, new networking opportunities, and a SedonaParty that's sure to be a slam-dunk for all involved.
*Early Birds get the worms! The SOUC Early Bird Special offers discounted rates to attendees who submit registration forms between August 22nd and October 31st. Don't miss your chance to save hundreds – register today.*

Lobby, Atrium & Elevators at the Hyatt Regency San Francisco: Home of the 2018 SedonaOffice Users Conference
**Class Descriptions Coming Soon!
**Educational Track Overview Coming Soon!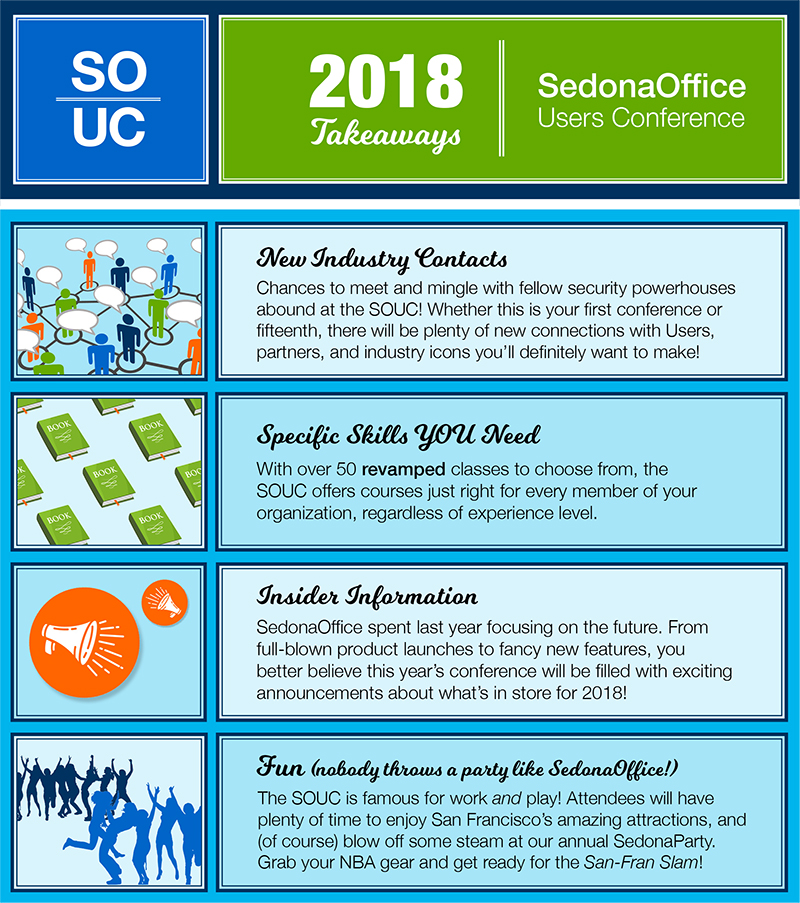 Details
Dates
January 21st – 24th, 2018

On the evening of January 21st, there will be a SedonaOffice Users Conference Welcome Reception and Registration.

Sessions start at 9AM on Monday and conclude with lunch on Wednesday at 12PM.

We recommend you arrive no later than Sunday, January 21st, 2018.
Location
Hyatt Regency San Francisco | 5 Embarcadero Center, San Francisco, CA 94111 | (415) 788-1234
We have negotiated a GREAT group rate of $299 plus applicable fees and taxes through 12/20/2017. The SedonaOffice Users Conference rate is available both before and after the conference, should you desire to extend your stay.
Reservations may be made two ways:
By phone: Call (415) 788-1234 and be sure to mention the SedonaOffice Users Conference when making your reservation!
Should you experience any issues while booking your room, please contact Tammy Most at (440) 247-5602 x 204.
Attire
Dress for the conference is casual. Optional (but strongly encouraged) NBA gear for this year's SedonaParty, The SO San-Fran Slam!
**Considering that approximately half of the SedonaOffice Team is based in Cleveland, we look forward to entering Golden State Warriors territory decked out in our most menacing Cavs attire. Steph Curry, Kevin Durant, and especially Draymond Green…we're comin' for you.
Transportation
Attendees should fly into San Francisco International Airport (SFO) then take a cab from the airport to the Hyatt Regency.

Registration Fee Includes: all receptions, meals, and break refreshments – Sunday night – Wednesday afternoon. *Excludes Monday dinner*
Registered guests may attend all meals, breaks, and hospitality functions.
Companies with three (3) or more registrants receive a $100 discount per attendee.
Refund Policy: Full refund through 12/31/2017, applied as a credit to your SedonaOffice account. No refund after 12/31/17.

Each registrant who signs up by 10/31/2017 will receive $500 in SedonaDollars. SedonaDollars may be used toward future SedonaOffice purchases including additional licenses and add-on products such as SedonaWeb, SedonaDocs, and SedonaSync.  This offer does not apply to monthly support fees, SedonaCheck, or training.
Questions? Contact Sam at SamC@PerennialSoftware.com or (440) 247-5602 x 219