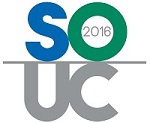 While we are hoping for the best, we are also preparing for the worst. Below is some important information should your travel be adversely affected by the winter storm.
If you will not arrive on your reservation date call the hotel (239) 444-1234 and speak to the Front Desk.  Let the desk know that you are delayed due to weather and ask them to modify your arrival date to the following day.  That way your reservation will not show as a "No Show" and the remaining dates of your stay will be held. You will not be charged for the missed night.
We are considering making some changes to the Monday schedule, so if you are coming please look at the SOUC app for any changes that may be made.
If you are considering arriving early you can book at the group rate Saturday. Call the hotel directly to make the change at (239) 444-1234 and ask for the Front Desk to add the night. If you booked an upgraded view room that room type may not be available.
In the event that you need to cancel we are providing two options for your registration cancellation since we are so close to the conference
1. Transfer your registration to the 2017 conference
2. Credit your account or refund the amount of your registration payment that is over $500. You will still receive your $500 SedonaDollars.
Unfortunately, the weather is not in our control and we have already incurred many non-refundable deposits toward the conference otherwise we would provide a full refund.  Please email April if you need to cancel.  She will work on cancellations after the conference.
Stay safe and warm and we hope to see you in Florida!
Sincerely,
Don Faybrick and Michael Marks
Perennial Software, Co-Founders