We are pleased to officially announce the 15th Annual SedonaOffice Users Conference.  For the last decade and a half, the SedonaOffice Users Conference—or SOUC—has provided attendees with unique and exciting opportunities to explore some of the security world's most innovative technology.
The 2017 SedonaOffice Users Conference will be held from January 22-25, 2017 in Marco Island, Florida at the beautiful Marco Island JW Marriott—a newly renovated venue with the beach right in its backyard.  The conference is sure to be just what you need to recharge and refocus after the holidays in preparation for a successful start to another new year.
Marco Island Marriott, Marco Island, Florida Home of the 2017 SedonaOffice Users Conference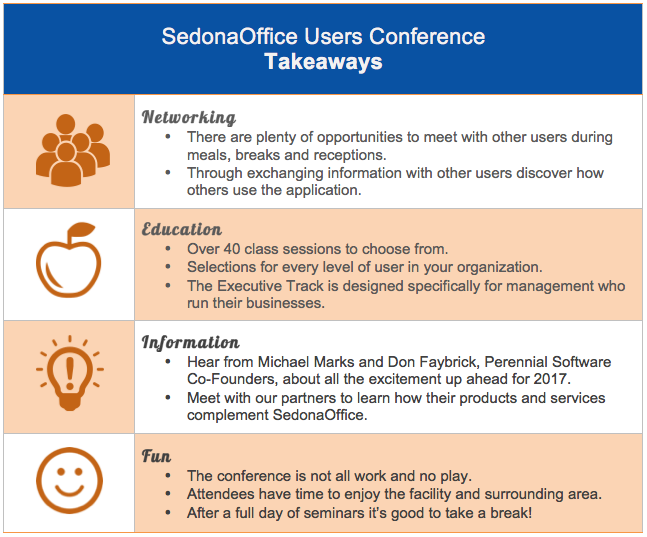 Conference Highlights

State of SedonaOffice
Don Faybrick & Michael Marks, Co-Founders of Perennial Software
Breakfast Keynote / Executive Workshop
"The Heart and Art of Service Excellence" – David Mitchell, Author, Speaker & Organizational Expert
Dave Mitchell, named to Meetings and Convention Magazine's 2015 list of Top Speakers of the Year and Meetings Professionals International Best Speaker of 2013 at the World Education Congress in Las Vegas, shares the personal attributes and skills common in great service providers.

SedonaParty
'80s Rockin' Rewind 
Join us Tuesday evening for a fun 1980s-themed party on the beach!  Like last year, we encourage you to dig up those old clothes and channel your inner "maniac" (maybe even watch "Flashdance" a few times) for what is sure to be a night to remember. *Sponsored by Forte
Class Schedule
Now available! Click Here to View
Details
Dates
January 22-25, 2017

On January 22nd in the evening there is a Welcome Reception and Registration.

Sessions start at 9AM on Monday and conclude with lunch on Wednesday.

We recommend you arrive no later than Sunday, January 22, 2017.
Location
Marco Island Marriott Resort & Spa | 400 South Collier Blvd. Marco Island, FL 34145 | (239) 394-2511
We have negotiated a group rate of $309 plus applicable fees and taxes until 12/20/2016. The SedonaOffice rate is available both before and after the conference should you desire to extend your stay.
Reservations may be made two ways:
Calling (800) 438-4373 and asking for the SedonaOffice rate.
Should you have problems or need any assistance booking your room, please contact Rebecca Hall at (440) 247-5602 x213.
Attire
Dress for the conference is casual.  Optional '80s attire for the SedonaParty.
Transportation
Attendees should fly into the Fort Meyers Airport (RSW).
Attendees can arrange transport with Canary Transportation.
Reservations may be made two ways:
Calling (239) 325-7207
Fee is $65 + 20% Gratuity for up to 3 passengers. There is no need to provide a special code.
Included in the fee are all receptions, meals and breaks from Sunday evening Welcome Reception through lunch on Wednesday, excluding dinner on Monday.
Registered guests are able to attend all meals, breaks and hospitality functions.
Save $100 per attendee with 3 or more registrations.
Refund Policy: Full refund thru 12/31/2016 via credit on your SedonaOffice account.  No refund after 12/31/16.

Each registrant who signs up by 10/31/2016 will receive $500 in SedonaDollars. SedonaDollars may be used toward future SedonaOffice purchases including additional licenses and add-on products such as SedonaWeb, SedonaDocs, and SedonaSync.  This offer does not apply to monthly support fees, SedonaCheck, and training.
Questions? Contact Rebecca at RebeccaH@PerennialSoftware.com or (440) 247-5602 x213.

Thank you to our 2017 Sponsors!