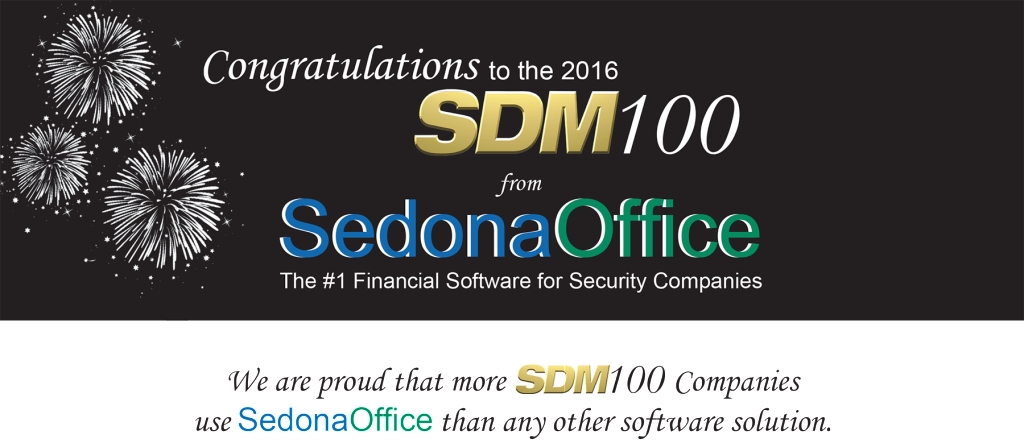 Every day, 53 SDM100 Companies Use SedonaOffice to

increase efficiency, streamline operations, and maximize revenue and your organization should be next. Add your name to the list below.
Acadiana Security Plus
A-Com Protection Services
ADS Security L.P.
AFA Protective Systems Inc.
Alarm Capital Alliance
Alarm Detection Systems Inc.
Amherst Alarm Inc.
Atronic Alarms Inc.
Bates Security LLC
Briscoe Protective Systems Inc.
Custom Alarm
Custom Security Systems
Cybex Security
Doyle Security Systems Inc.
Electric Guard Dog
Electronix Systems Central
F.E. Moran Inc. Alarm and Monitoring Services
First Alarm
Fleenor Security Systems
General Security Inc.
Gillmore Security Systems Inc.
Hoffman Electronic Systems
Matson Alarm Co. Inc.
Monitronics International
Moon Security Services Inc.
Mountain Alarm
My Alarm Center
NorthStar Alarm Services LLC
Pacifi c Alarm Systems Inc.
Peak Alarm Co. Inc.
Per Mar Security Services
Post Alarm Systems
The Protection Bureau
Redwire / Sonitrol of Tallahassee, Bay, NW FL, EC, FL
Richmond Alarm Company
SAFE Security Companies
Scarsdale Security Systems Inc.
Security Equipment Inc.
Security Systems of America
Select Security
Sentry Security
Sonitrol New England
Sonitrol of Buffalo, Rochester, Toronto
Sonitrol of Sacramento & Orange County
Sonitrol Pacific
Sonitrol Security Services
Sonitrol SW Ohio
Sonitrol Tri-County
Station Alarms Inc.
Supreme Security Systems Inc.
Valley Alarm
Washington Alarm Inc.
World Wide Security & GC Alarm Inc.